Something

New

-

From

Something

Old
Since 1911 a church has been meeting at the corner of Reiger Avenue and Augusta Drive. In that year the Congregational Denomination constructed its first structure on the corner-made from wood. Being conveniently located just off the new trolley line traveling east from downtown, this church became an active part of the booming Junius Heights Community, which boasted at being a development with the single largest 'one-day lot sale' ever recorded in Dallas' real estate history.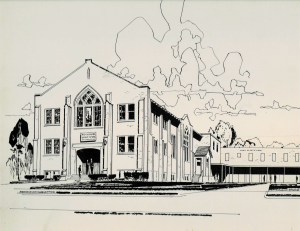 In 1924 the need for a larger, more permanent, structure was realized, and a "Gothic type architecture, of solid brick in a blending of grays" — was completed by 1926 – at a cost of $32,000. (Dallas Morning News, November 1, 1926.) In 1939 the Congregational church made a decision to relocate to the north, 'out in the country' near what today is Inwood and Royal Lane, and a small Baptist congregation began renting the building. In 1940 these worshippers were able to purchase the church and in the years that followed the Junius Heights Baptist Church established a vibrant ministry impacting scores of young, post- World War II adults moving to Dallas to find work and start their careers.
As the church moved into the 70s, church members began moving out – to nearby suburbs, and by the turn of 21st century the once thriving congregation with attendance in excess of 300 each Sunday rarely saw 50 worshippers. Over the next years membership dwindled to a handful made from 2 congregations – a Hispanic congregation of 30 persons and an English-speaking congregation of less than 10 – and the buildings and facilities fell into disrepair. Being affiliated and cooperating with the Dallas Baptist Association, the DBA staff led by Dr. Bob Dean, began praying with the small congregation as to what might be next.
Today
Today the Holy Spirit has breathed new life into both the church and its building and the Good News of Christ is being lived out on this historic site afresh and anew. In July of 2019 Travis Endsley was called to become Lead Pastor and, as membership has continued to grow, all congregations have now become one – The Church at Junius Heights – providing that ministry and mission are accomplished each and every day to the praise and Glory of God.
OUR

PURPOSE
The Church at Junius Heights has been established to make disciples who:
Advance God's Kingdom in the World